Training Notes #26
I've been busy, so this is a two-week update. Additionally, my work schedule is about to get much more crowded, so these Notes will probably be less frequent from now on (perhaps centred around an entire training block leading up to an Event). This will also give me more time to spend writing actual cycling articles, a change of focus that I've been meaning to get around to for a while.
---
The week beginning 29th July culminated with the Boone Gran Fondo. I did three midweek 100 km endurance rides, the first of which included a single 8-minute interval. It was supposed to be a 4 x 8 intervals ride, but I again went out way too hard on the first, getting a new personal best in the process, but wasn't able to get close to the requisite intensity for any subsequent efforts.
Clearly I need to focus on working my way into long intervals, going too easy at first if necessary, so I can get through a full set of them in a reasonable manner. But other than that, I was very happy with my preparation for the Fondo. I had the two prior days completely off (not planned, but that's how it worked out), so lack of freshness wasn't a concern, but with no pre-event ride I was slightly worried about being a little stale. This didn't happen, however, and the Fondo went very well.
---
At 157 km with over 2,700m climbing, it wasn't the toughest ride ever, but quite enough for me. I was considerably stronger than I was for last year's Asheville Gran Fondo, as well as being better prepared psychologically. Unlike last year, I ignored the timed sections, preferring instead to focus on keeping a nice overall pace (brisk, without going all-out at any point).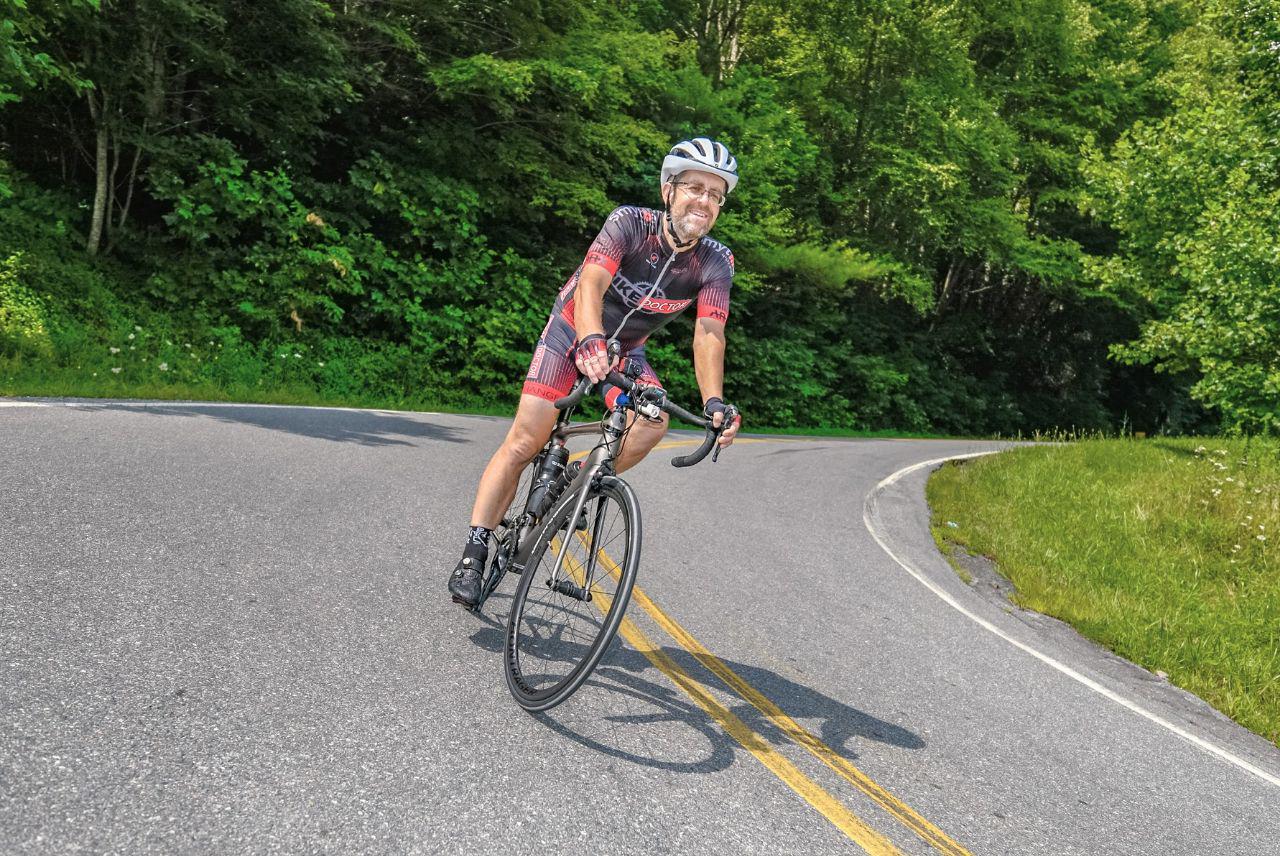 It looks like I enjoyed myself!
---
The hills were more spread out than for the Asheville ride, which is centred around 3 big mountains. In this case I had a continuous series of moderate climbs. The first one that gave me any real trouble started around the halfway point. At just over 300 m across 10 km, it looks innocuous enough, but it in fact gets progressively steeper the closer you get to the summit, getting into double digits near the top. This was also the case with the next big climb, as well as the several much smaller ones near the end of the route. Not pleasant.
Of particular note is the final climb, finishing less than 5 km before the end, that tops out at about 17-18%! This was pretty nasty so deep into a big ride, although it was of course a great feeling to get that behind me and coast the last few minutes back down into Boone.

The cumulative effect of all that climbing is very fatiguing, however, which became apparent later the following week.
---
I'd wanted to ride up Snake Mountain the day after the Fondo, but it was raining in the morning, and after descending in the wet the previous year in Asheville I wanted to avoid a repeat experience. By the afternoon it had dried out, but at that point I'd moved onto other things and decided to cancel the ride. I was a little low on energy in any case.
---
I drove 5.5 hours home on the following Tuesday, but couldn't stand the thought of only doing one ride in five days, so after I got back I went out and did a pretty intense 2 hours. I did a few fast intervals, and otherwise kept up a high pace throughout. One 5-minute effort in particular was very tough, and I think this may have been the point where I pushed too hard; even though it was 48 hours after the Fondo (generally enough to recover from a high-intensity ride), I still probably needed another day or two's rest, so this hard Tuesday ride further depleted me and pushed back my recovery.
---
On Wednesday morning I was feeling very fatigued from the start (planned as a 100 km ride with long intervals). I immediately decided to skip the intervals and just go for a plain endurance ride. In recent weeks I've been able to average 200 W for the final hour, with blocks in the 220-240 W aerobic threshold range. On Wednesday it was more like 160 W average and a real struggle to do 200 W for more than a minute or so. The next day was the same story, so I ended that ride (a planned century) after 75 km. In hindsight it was pretty obvious what the problem was, but now I know that for an extra-hard ride I'll need at least 72 hours for full recovery. Any rides in the meantime must be short and recovery-paced.
---
I took the day off on Friday, and lo and behold by Saturday I was back to normal. I had a very nice weekend; a 120 km tough group ride on Saturday followed by a moderate-paced 160 km on Sunday. This has become the template for my weekends now; a very effective two days' training.
---
The next event will be the Savannah Century in three weeks. The next Notes will probably be then as well. In the meantime, expect a couple of articles.
---
Designation: In-Season: Event Week/Build 1 Time: 17.3/17 hours | Distance: 489/520 km Low:Medium:High Intensity: 81:10:9/86:8:6 FTP: 287 W | Peak Power: 1016 W | High-Intensity Energy: 17.2 kJ Weight Training: 0 x Lower Body, 0 x Upper Body | Walking: 7 km
---
As ever, if you want more detail follow me on Strava, and see my full training plan soon, once I've finished rebuilding it.