This block marked the start of a 3-month experimental phase with which I'm going to close out the season.
I've reduced my training time, averaging around 12 hours per week on the bike throughout this period, and upped the average intensity (although much of this intensity increase is a consequence of the reduced base load).
Analyzing my ride data over the past year or so that I've had my power meter showed that I appear to respond much better to intensity compared with volume. The two graphs below show my VO2max, first versus volume and then versus intensity. The trends are clear: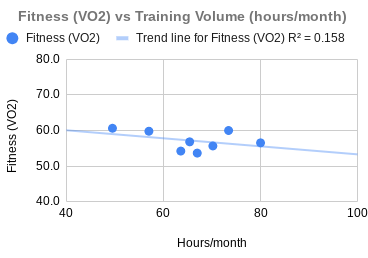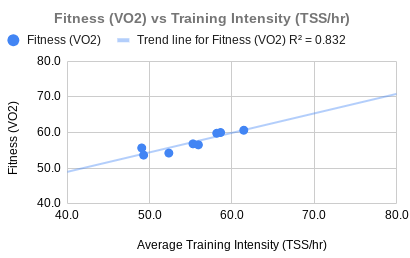 You can see that higher volume hasn't lead to increased VO2max values, whilst higher intensity has. There are other factors involved that could possibly confound the data (especially my lack of recovery during my highest volume phase last year), and VO2max isn't the only important aspect of performance (more on this below), but nevertheless I judged it prudent to at least try completing the remainder of the season with a lower-volume-and-higher-intensity period to see what effect this has on my performance.
Read more...