Weekly Training Notes #11
I had a very good week; two good solo training rides and two decent group rides at the weekend.
My injury is still stubbornly refusing to disappear completely; it's seemed like a couple of days away for the last two or three weeks.
On Tuesday I did a mix of intervals: 1 x 2-minute, 3 x 4-minute and 20 minutes of threshold. Everything checked out okay, and this reinforced my realization from last week that I simply haven't been working out hard enough recently, especially around my anaerobic threshold.
So much so that I've actually rejigged my In-Season program, replacing the intervals on the Thursdays of Build 1 and Build 2 with 3 x 16 Threshold rides, and moving the Pursuit intervals to the Tuesday of Event Week. I think this gives me a much more balanced approach.
I think I overreacted quite dramatically to my overreaching at the back end of last season, leading to stagnation in my fitness over the last couple of months. Now I've recalibrated things I'm expecting rapid improvement once more.
---
On Thursday I took things up another notch with a very good threshold workout; I put in a solid hour right around the target zone, and following the ride got the old familiar feeling indicating a job well done. It was painful, of course, but that's what it's supposed to feel like.
---
I went back to Savannah on Saturday, and despite not being in great shape I decided to attempt the unlimited ride. I knew I'd likely be dropped, but I wasn't expecting it to happen within the first 30 seconds! It was very windy, and yet again I wasn't on my game at the start point and was surprised by the ferocity of the group's acceleration right at the turn onto US-17. I could possibly have closed the gap with a maximum effort, but given the demoralizing headwind I decided the best course was to relax and wait for the second group to catch me. In the event, that was probably a good call, as I ended up getting a pretty good workout.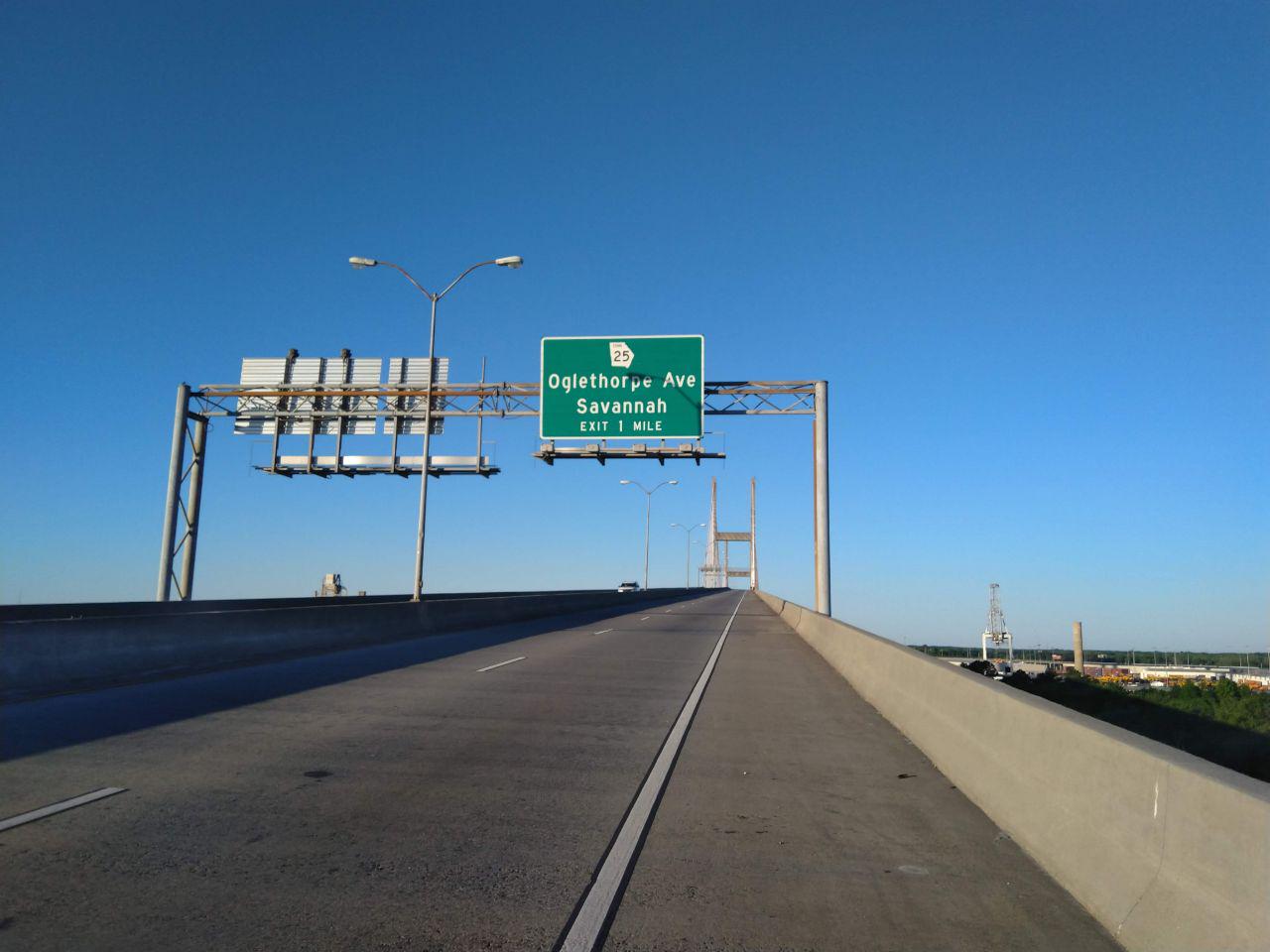 My first Savannah bridge loop of the year, on the pre-ride warmup
---
I was feeling good on Sunday, so I changed from my usual recovery ride and instead went to Hilton Head for the group ride there. I got in a little bit of extra intensity, but not as much as I was hoping for. There was only one sprint (I got second; 400m out I thought it was mine, but the lead guy, whose wheel I was on, took off way too early and very fast, as he was misinformed as to which road sign represented the finish line! This took me by surprise, and abruptly changed my role from sprinter to leadout man. Sure enough I was pipped just before the line as I ran out of steam) and the usual fast run down Marshland Road didn't happen either.
However, in hindsight the ride was probably spot on in terms of what it did for my weekly training load, which was comfortably the highest for a long time. It would be counterproductive to increase it too quickly.
---
The Nestor Cup was finally announced; the first race is in five weeks, which is an ideal amount of time for me to build up and get some speed in my legs. I'll be doing the Saluda Roubaix gravel ride next Sunday, then I've got a month of solid effort leading up to Race 1.
---
Designation: In-Season, Build 2 Time: 17 hours | Distance: 465 km | Low:Medium:High Intensity: 70:25:5 Weight Training: 1 x Lower Body, 2 x Upper Body | Walking: 17 km
---
As ever, if you want more detail follow me on Strava, and see my full training plan.